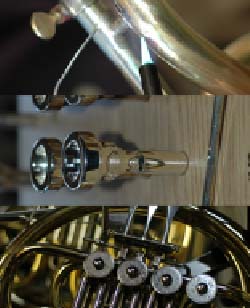 Woodwind and Brass Instruments

Whilst in the past the trumpet, due to its loud, blaring sound, was used mainly for military purposes, however nowadays, like all the other woodwind and brass instruments, it is an essential element of folklore music, jazz, but it also plays a vital role in orchestral music.

The material structure, which evolves during the manufacturing processes, is of significant influence on intonation, sound and response. It has long been established by experience that in handmade instruments the vibration of the material is optimized and therefore they sound better (softer and warmer). The instrument is easier to play, requires less effort and supports the musician in his technical proficiency.

The ability to satisfy the musician's wishes by offering personalized adjustment of the instrument to individual specifications - from beginner to professional - is an highly valued service, that only an experienced instrument maker can offer.