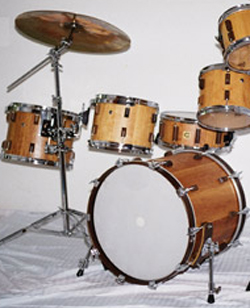 Percussion Instruments

Rhythm and music are a part of life and percussion instruments serve as a tool to make rhythm audible and transfer its dynamic energy to the listener. Every orchestra, big band and wind band, has timpani players, bass drummers, kettledrummers and percussionists and a rock band cannot be imagined without a drummer.

Lately the percussion sector experiences a musical upward trend in performances. Percussion soloists and ensembles even feature in their own special events and concerts attracting and inspiring new audiences.

Handmade percussion instruments with innovative design develop a very special sound. The specific characteristics in vibration of the material used (f.e. solid wood) allow the creation of instruments with distinctive sound possibilities – from classic to modern – which do not only impress every musician, but playing them becomes an experience in itself. Custom made models and instruments offered by the Salzburg musical instruments builders are true specialties.

Marching drums, snare drums with multiple snares, bass drums up to 54", concert toms up to 20" on r.i.m.s. wood blocks, stand tom-toms, conical bass-drums, pipe drums, tambourin de Provence, wooden kettle drums and baroque timpani are on offer from the Salzburg Musical Instrument Makers. Xylophones, vibraphones, marimbas, bells, Viennese style kettle drums, cymbals and accessories like handmade sticks and mallets for specific instruments complete their specialized offering.

For large orchestral instruments apart from an outright purchase there is also a rental option. This package also includes maintenance, set up and delivery and pick up service.