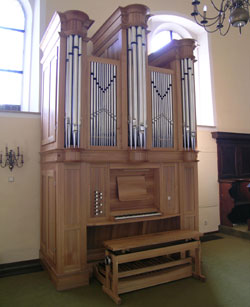 Organ Building

The organ is called the "queen of instruments" because of its ability to captivate the listener with its magical power to overwhelm or placidly appease. Apart from the church the organ has found its undoubted place in the renowned concert hall.

The organ makers of Salzburg are artisans who do not only allow the organ making tradition of past centuries to live on in their work, but who have also, through experience and further training, developed and adopted new constructional as well as technological solutions.

The spatial and musical requirements for every organ project are always a challenge regardless if it as a small or big organ, if it is to be built from scratch, repaired or restored. The use and appropriate selection of the highest class materials and quality, mostly locally grown wood, organs are created to satisfy the desired ideal of sound and style – from baroque to romantic.