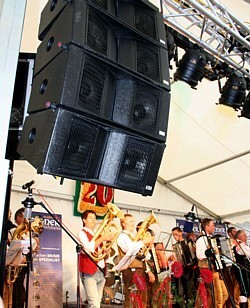 Electronic Music - Event Management

Through the help of electronic devices almost all conventional musical instruments can be enhanced acoustically and in sound volume. Due to the demands of contemporary music and event management styles, in addition to the traditionally common acoustic instruments, even fully electronic musical instruments such as keyboards are now commonly used.

Most players use reasonably adequate pickups and high quality microphones in combination with suitable amplifiers in their performances. Depending on the size and nature of the event as well as the surrounding environment, it can be quite challenging to achieve a good balance between sound quality both in volume and precision, whilst remaining in compliance with legal safety regulations. In such cases it is advisable to engage a professional event manager with properly trained staff, specialized in planning, providing, installing and reliably operating the complete sound and light equipment.

The range of available services in the event management sector are of the highest professional standard covering all requirements concerning perfect amplification of sound, musical instruments and speech as well as lighting and sound management in general and thus contributing considerably to the success of each event.